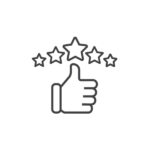 Our Patients Say Great Things About Us *
* Real Patients – Real Reviews of Moody Eyes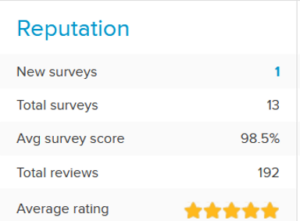 5 Stars – Nicole C.
Dr. Moody is always such a personal and approachable doctor. If you want to feel like you matter and aren't just a number in a line of patients you will find that here. I always enjoy my time there.
5 Stars – Dawn H.
Lauren and Dr. Lambert were great! They both made me feel welcome! Both were informative and made my visit pleasant and positive.
5 Stars – Christopher S.
I've frequented plenty of great eye doctor offices over the years, but Moody 'n crew are the absolute best!
5 Stars – Paula H.
Dr. Lambert was awesome. She was very thorough with my eye exam and took time to explain changes that have happened with my vision while listening to my concerns. She made me feel very comfortable during the entire exam. I would highly recommend her.
5 Stars – Stacy B
Once again this year, Moody Eyes exceeded my expectations (which are already high due to many years of wonderful service). As usual, Dr. Moody went out of his way to help me and answer my questions, as did their office staff. Moody Eyes doesn't carry Rimless frames, but Dr. Moody referred me to a colleague who does. Thank you Dr. Moody! I found I pair I liked in the Design Center anyway and purchased those. Office is always clean and tidy and equipment is top-notch. Highly recommend Moody Eyes.
5 Stars – James B.
My visit was what I've come to expect from this business. From the moment I entered to the time I left I was blown away by the professionalism and kindness each staff member radiated.
5 Stars – Matthew K.
Dr. Moody and the staff were great. My eye appointment was done in about 40 minutes and they explained the issues by eyes are facing and gave me options for eye glass wear. They provide good and friendly services.
5 Stars – Suzanne W.
Very pleased with Dr. Lambert. She explained every procedure thoroughly and made me feel comfortable and at ease. She was friendly, knowledgeable and professional. I would recommend her for your eye care to everyone.
Dr. Moody Comments on 1-Star Reviews
If you take care of enough patients, you are going to get some bad reviews. No matter how much we try, we know we can't make every single patient perfectly happy. Here are some of the reasons we have observed for a 1-Star review:
The patient doesn't like our frame selection or brands. Several years ago we decided to carry independent frame brands which give you the latest styles, great quality, and a better price. If you're looking for a pair of glasses you will love to wear, then we are a great option. But, if you're looking for a RayBan, Oakley, or other well-known brand, then we won't have what you want.
The patient doesn't like our policies. We do our best to have straightforward, easy-to-understand principles that make it easy to get your eye exam, glasses, and contacts from us. More than once, we have updated our policies based on a review.
The reviewer is a disgruntled ex-employee. Not everyone who works with us fits into our team. This doesn't make them a "bad person" or "poor employee". It just means they will enjoy their work more in a different environment. Fortunately, this happens only occasionally.